Information About Book Sale Finder
How to Use the Site
We try to make it easy to use our site. When you first click on
www.BookSaleFinder.com
, you are brought to our main page. There you will find a map of the USA and Canada. Notice that some of the Canadian provinces are combined into regions, and in the USA we created separate sections in New York (Upstate NY in one section, NYC & Long Island in another section) and California (Northern, Southern, and the San Francisco Bay area). To find the sales in your area, just click on the appropriate place on the map, or click on the abbreviation below the map. This will bring you to the page of book sales in that area.
On the book sale page, you will find a section on the left titled: "Upcoming Sales in xxxxx". This section lists the sales in your area which will be occurring in the next several weeks. To find out more information about a sale, just click on its location and that will bring up the individual sale listing (to go back to the top, just click the 'back' key on your browser). Notice that some sales are highlighted in yellow. These are sales, auctions, book fairs, etc. that may or may not be in your area, but which the sale organizers felt were special enough to tell you about them. (The organizers pay for the highlighted ads, and that is the main source of income for the web site, enabling us to list non-profit sales for free).
Sometimes it helps to see exactly where the sales are on a map - and we provide a way for you to do so. At the top of the dates, you'll see a button that says "Click here for a Google Map of sales". Just click that button and you will be brought to a page that shows the exact location of each sale (note that we go to the trouble of finding the actual longitude and latitude for each sale address, so the map will be accurate). You can click on any balloon on the map to learn more about the sale at that location. Also, you have the option of looking at sale locations for the next 1 or 2 weeks. We also can show you the locations of non-profit book stores in the area (more about these later).
There are many other options one you are on the state page:
You can see the sales calendar for as much as 9 months in advance. But we add sales daily, so it's a good idea to come back frequently to check for sales.
You can browse for sales alphabetically by city name.
In addition to book sales, many non-profit groups have book stores or ongoing sales. Some of the book stores rival those of for-profit book sellers; they are definitely worth a look if you're in the area. But be sure to check the listing to learn the hours and other information.
At the top of each state page, there are links to all surrounding states, so you can quickly look up sales in neighboring areas.
While your on the site, be sure to occasionally check our
Classified Ad section
, where you can find people who want to buy or sell book-related items. If you've ever thought of becoming a professional online book seller, this is where you can find everything you need. And, as you have probably noticed, our book sale pages display several ads where you can purchase such items as scanners, inventory control, business startup books, and more. Be sure to check them out!
But
MOST IMPORTANTLY
, be sure to
sign up for Sale Mail!!
. Sale Mail is a completely free service that we offer, where every week we check to see if there are any sales in your area and, if so, we send you an email telling you about them. Since it was introduced in 2001, this has become one of the most popular features of Book Sale Finder, and we now send out about 17,000 every week! When you subscribe to Sale Mail, you'll never miss a local sale. Just give us your email address, your zip or postal code, and how far you're willing to travel for a sale. That's all there is to it!
We will not release your email address to any other party, and you will not receive spam from us. Please look at
our Privacy Policy.
---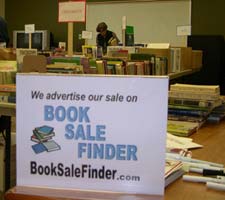 Who Uses Book Sale Finder
We think EVERYBODY should go to local used book sales. The prices and selection are great, the atmosphere is fun, and the book donors, book sellers, and book buyers all benefit. This is recycling at its best!

Every month thousands of people check our site for upcoming book sales. Most of them are book lovers or people who collect books, but a large number are used book dealers who sell online or in a book store (they get much of their stock through these sales). We also have a large number of homeschoolers who frequent our site. And, of course, we have lots of people who sign up for Sale Mail just to be reminded of nearby sales; many book sale organizers tell their patrons to watch for their sale on BookSaleFinder, which saves the organization quite a bit of money in mailing costs for notices.
---
Facts about Book Sale Finder
The following are some statistics about Book Sale Finder:
Published printed books about book sales in 1994, 1995, and 1997
Web site established in 1997
Now lists over 6,000 sales per year
Weekly Sale Mail to about 18,000 subcribers (subscriptions are free)
Appears as first non-paid listing in Google and other search engines with key words 'book sale'
---
History of Book Sale Finder
Who runs Book Sale Finder?
The Book Sale Finder site is maintained by Helen and Tom Oram, who live in Massachusetts. Helen works full time keeping the web page up-to-date: compiling all the sale information, answering e-mails, soliciting new sales, and working with advertisers. Tom works part time on the page and is responsible for writing the programs that create the web pages, keep track of the sales, build the Google Maps, and personalize the weekly Sale Mail notices. We are NOT book dealers. Both of us, however, love books and book sales.
Why Book Sale Finder?
We have always loved going to local book sales. When our children were in school, we frequented sales to find books and magazines that they could use for school projects. Tom was always on the lookout for books on sliderules, math, and woodworking; Helen's taste ran more to old cookbooks, world's fair memorabilia, and anything about the old Coney Island.
In 1993, while driving to a sale, we commented how nice it would be if there were a single source listing ALL the book sales in the area, so we could plan in advance. Since our sons had graduated from college by that time - and we had some free time on our hands (hooray!) - we decided to self-publish a book listing all the book sales in New England. That was the end of our free time!
Unfortunately, we knew absolutely nothing about the publishing business, so we turned to our source for how-to books: local libraries and book sales. We amassed a significant library of self-publishing and marketing books. We sent mail to all the libraries in New England (this was before e-mail), entered all the information in a database, made it look like a book, hired a cover designer, found a printer, etc. Finally, in the spring of 1994 we had thousands of copies of Book Sales in New England. We sent copies all over New England and to the New York Times - who mentioned our book in their Book Review as a useful tool for summer vacationers in New England. Numerous good reviews convinced us that we weren't alone in our search for great books at great prices.
Buoyed by the success of Book Sales in New England, we decided that we would go nationwide. So we sent more mail - this time to libraries all over the country, and in 1995 we produced Book Sales in America. In 1997 we produced yet another nationwide edition. But by then we realized that book sale organizers often cannot plan too far in advance, and we needed a way to keep the information up-to-date; so in 1997 we placed the book sale information on the Internet - for free! We joined the Internet revolution, survived the dot-com bust, and continue to attract more and more viewers to our site.
Is Book Sale Finder a Labor of Love?
As much as we enjoy publishing book sale information, our motives are not purely altruistic; we are trying to make money from this site. We don't expect to make a lot of money, but we can't work for free, and maintaining the web site keeps us busy (very busy).
How does Book Sale Finder make money?
The only money we get is from our advertisers. In the Internet business this is called "advertising-supported content", which has often considered to be a bad business model (until Google came along). But it's important to us that the information be free (we yearn for the early days of the Internet when all information was freely available), so we're trying our best to make that model work.
How can people support Book Sale Finder?
You can help us by supporting our advertisers and telling them you appreciate their support of our web site. If you are a sale organizer or book seller, consider allocating part of your advertising budget to advertise your special sales on BookSaleFinder.com. We guarantee you'll be satisfied with the results, so you really can't lose any money, and we believe we offer the best value for your advertising dollar by far (we encourage you to contact any of our advertisers for references). We would also appreciate your displaying our
POSTER
during your sale - and help spread the word about book sales!
---
In April 2007, Catherine Petruccione, who runs the
Old Scrolls Book Shop
in upstate New York and is the Media Editor for
Book Think
, interviewed Tom Oram, the co-owner of Book Sale Finder. You can read the interview at their web site
here
.